Family is wonderful isn't it? But there's a reason you can't pick 'em, unlike your friends.
Family will embarrass you every chance they get, but they also have to support you no matter what you do, and that means sometimes they come visit you while you're on your adventures.
At least that's what my ragtag family members did.
They came over for my Spring Break and we were incredible tourists. It was great!
Food is a major thing in our household. My mother is an artist in the kitchen when she wants to be, and the rest of us, well we can pack away a cake in about 30 minutes, as well as a pint of ice-cream.
So while in New York City one would be disappointed if we didn't bask in the glory of the food available to us.
We ate cupcakes from Magnolia Bakery made famous by Sex and The City and we had pretzels and hot dogs from street vendors around Time's Square.
But the highlight of my New York dining experience has to be Beauty & Essex.
As you walk down Essex Street on the Lower East Side of Manhattan and the facade of the building looks like a regular pawn shop. Admittedly it looks like the cleanest pawn shop you've ever seen, and the nicest shop on the street, but a pawn shop none the less.
But if you walk inside?
Inside a woman sits behind the counter casually talking to customers and answering the phone. Normal right?
Well if you ask her to make a reservation for dinner she can arrange that. The wall opens up (yes, the wall) and reveals a huge restaurant.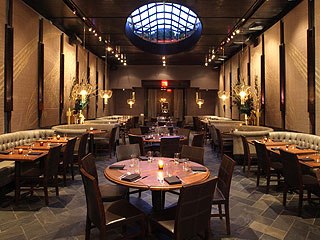 Inside chandeliers hang from the roof, champagne is available in the bathrooms and stars dine there regularly. The evening my family and I were there Nelly was in the VIP room. Explaining to the 'rents who he is was a bit of a nightmare, but still it was pretty cool.
We ate bone marrow jelly, drank wine and champagne and a number of other incredibly delicious foods. By the end of dinner I felt like I was supporting an almost full-term food baby.
And damn was I happy.
There is nothing like wandering a city where every corner supports amazing delicacies, especially when you are obsessed with food.
So if you're ever there, bring a bib and tuck in!